RAMZY'S TOP 10 TV SHOWS OF 2016
Aside from listing my
top ten movies
, for this post, I will also be listing down my top TV programs from 2016! Some are new, some are returning from previous seasons, all of which are absolutely fantastic. This time around though, unlike my movie list which wasn't really ranked in any way, shape or form, I felt more confident in ranking each shows this time around. So without further ado, let us begin the countdown! Starting off with...
10.
Daredevil
Matt Murdock, with his other senses superhumanly enhanced, fights crime as a blind lawyer by day, and vigilante by night.
Back with its second season, "Daredevil" I would say, is better than ever. The story this time around still suffers the issue with Marvel's Netflix shows where in the plot starts of really strong but gets stagnated or convoluted in the later part of the show's season. The action scenes though, have definitely gone through some major improvements. With the second season also having a couple of new major characters in the mix that definitely bring their own fair share of action to the table. Overall, I really ended up liking it more than the first season and I happen to like season one a lot.
9.
The Eric Andre Show
The Eric Andre Show is a late night talk show, with an alternate reality.
My favorite talk show of them all. But to describe it as just a talk show. would be to do it a severe injustice. The show is just fucking nuts man. Like, I don't even know where to start of on how to describe it, you just have to look up some footage on Youtube of Eric's interview or remote segments to get a vague idea of what the show is all about. One thing I am sure of though, is that it has the type of absurd and ridiculous humor that just blasts off my sides out of orbit. It is absolutely hilarious.
8. Black Mirror
A television anthology series that shows the dark side of life and technology.
Or what they call the "Twilight Zone for the digital age", "Black Mirror" really feels like the modern reincarnation of the cult classic. Only this time, it mainly focuses on the effects of technology, both good and bad (mostly bad, really). It's also an anthology series, meaning, each episode is self-contained and doesn't have anything to do with the other ones. The premises are endlessly intriguing, the episodes, truly entertaining and tackle on topics in a way the they almost get drilled into your mind and you just can't help but think about what you've just seen hours, days, maybe even weeks later.
7. Better Call Saul
The trials and tribulations of criminal lawyer, Jimmy McGill, in the time leading up to establishing his strip-mall law office in Albuquerque, New Mexico.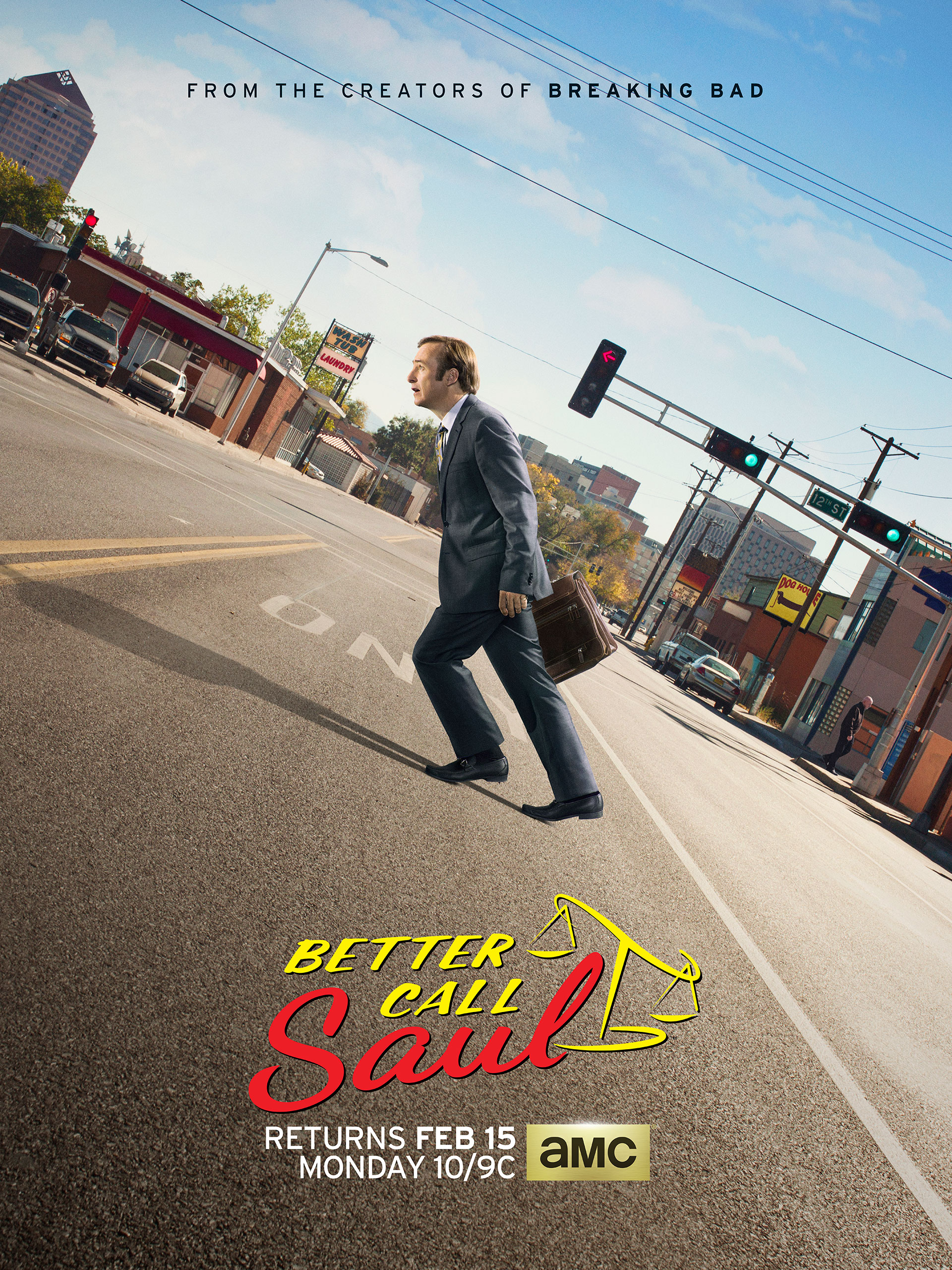 In the sophomore season of "Better Call Saul", we have the blossoming sleazy lawyer a while before fully turning into the Saul Goodman we all know and learned to love in "Breaking Bad". The series is basically a chronicle of his characteristic downhill spiral into what he was or rather, is in "Breaking Bad". He has always been pretty sarcastic and snarky, but not as bad as what as he later on broke to be. The show though, is quite good, in fact, I would say still on the same caliber as its predecessor though still has quite a lot to prove though now that it is still in its second season, whereas the previous one already had five amazing seasons to fully tell its story. Still though, I highly enjoyed blasting through it and watching Saul and his misadventures and how he attempts to maneuver his way out of them.
6. Silicon Valley
In the high-tech gold rush of modern Silicon Valley, the people most qualified to succeed are the least capable of handling success. A comedy partially inspired by Mike Judge's own experiences as a Silicon Valley engineer in the late 1980s.
Now in its third season, the HBO comedy is something I almost always laugh out loud to during every episode. It is always a joy witnessing when the proverbial shit hits the fan and manages to splatter on all of the shows great ensemble. The main cast just have an amazing on-screen chemistry and Mike Judge's brand of crass humor just rubs me in the right way.
5. Stranger Things
When a young boy disappears, his mother, a police chief, and his friends must confront terrifying forces in order to get him back.
There is nothing really that mind-blowing about this show other than that it is just good. So good, in fact. It's just a solid A- for me in that every episode feels super solid and entertaining. The way that it also manages to capture the 80's nostalgia instituted by the likes of Steven Spielberg is just magical. If you've seen movies like "E.T.", "The Goonies", and "Firestarter" just as a few examples, you'd find that "Stranger Things" feels eerily familiar to those. But what steps it up another level is how modern it also feels. For example, let's say we have a cop character from an 80's movie. And the movie basically has a couple of kids or teenagers having this adventure. But to the "adults", it may seem like they're simply causing trouble, right? So what would the cop/outsider character do then? Try and come in between the gang and their objective right? I would imagine that would be the most likely thing to occur in a movie from that era. But in this show, characters actually act like real people. They don't act in a particular manner for plot convenience but out of logic and reasoning. The characters here even break archetypes I'd say. "Stranger Things" really is just a solid, solid piece of 80's nostalgia-inducing fun sci-fi.
4. Mr. Robot
Follows Elliot, a young programmer working as a cyber-security engineer by day, and a vigilante hacker by night.
Elliot and the gang are back, and the stakes have never been higher for season 2 of "Mr. Robot". The season also happens to be more mindfucky than it has ever been, a lot of sequences even feeling almost dreamlike in how surreal and "Wait what the hell is happening?"-inducing it was. I'm not gonna talk about the massive plot drops this season but what I would say is that I don't know if it's better than the first season, because it really just felt wholly different this time around. But I would say, that it is still fantastic if not better, then on par with season one, but in different ways.
3.
Atlanta
Two cousins, with different views on art versus commerce, on their way up through the Atlanta rap scene; "Earnest 'Earn' Marks," an ambitious college drop-out and his estranged cousin, who suddenly becomes a star.
"Twin Peaks but with rappers" is how this show was described by creator and my personal idol, Donald Glover. And I believe that is quite an apt way to describe his debut TV show. It gets weird and a lot of ridiculous, sometimes head-scratching moments happen (but in a good way!), feels really down-to-earth and humanized, and is absolutely hilarious.
Nine noble families fight for control over the mythical lands of Westeros. Meanwhile, a forgotten race hell-bent on destruction returns after being dormant for thousands of years.
My favorite season of this show to date, period. Mainly because now that it goes beyond the books, even book-readers like me who for several years, enjoyed (and suffered) the luxury of knowing where the story goes in advance, had no fucking clue where the show was going this time around! Plus, this season had the biggest, and most epic battles in the entire run of the show, topped with the staple amazing performances from the cast (except for those Sand Snakes) and the delightful cinematography and sublime scoring. So yeah, this year's season of "Game of Thrones" was just amazing and comes as virtually no surprise, really. Which actually what made me put it on the second spot in order to put the spotlight more on my number one show, which is...
1. Westworld
A Western-themed futuristic theme park, populated with artificial intelligence, allows high-paying guests to live out their fantasies with no consequences or retaliation from the android hosts, until now.
The show that it a habit for me to spend 4-5 hours a week, just reading tons and tons of fan-theories after every new episode. The show that made me question absolutely everything about it. The show that almost tired me as I tried to wrap my head around every major plot point and event again and again. And boy did I love every second of it. The show's finished now so if you still haven't seen it...GO. WATCH. IT.
So yeah! That will be all for my top ten TV shows for now. How about you? What shows have you seen last year and would say your favorites? Do let me know! That will be it for now, thanks for reading along! :D