RAMZY REVIEWS: "Jack Reacher: Never Stop Never Stopping"
Monotonously formulaic, Jack Reacher: Never Go Back is one action thriller sequel whose title also serves as a warning.
- Rotten Tomatoes
Alright! First off, I might've gone into this movie with way too much negativity because I was initially planning on watching
"Kubo and The Two Strings"
. Been meaning to watch it for quite a while actually but just haven't had the time to. Only one mall was showing it so I went there earlier, headed straight to their cinemas--and lo and behold, the movie was nowhere to be found! After taking a few breathes to contain my internal screams, I reluctantly decided that since I was already there, I might as well watch something just so I can make a review. How bad could it be, right? Well it turns out it was bad. Not that much, but in the end, I didn't necessarily feel like I got my money's worth.
Set four years after the events of the first film, Jack Reacher is returning to the headquarters of his old military unit. He comes to meet Major Susan Turner who has been working with him on solving cases across the country. Upon his arrival, he is informed that Turner is accused of espionage.
Alright, so this probably takes the cake as being the most generic film I've seen all year. The two leads (Tom Cruise and Colby Smulders) were pretty good, but I was never really on the edge of my seat at any point of the movie at all-which for an action movie, isn't good news. Oh, and the kid was an annoying dipshit. So minus points there, I guess. Haha. Some of the dialog was pretty bad, too, as well as some badly done dubbing. I honestly can't think of a more generic middle-of-the-road movie in recent memory. It's not terrible, but nothing close to being any good as well. Just....okay. Meh.
Looking at the good stuff the movie has though, I actually thought the action was cool. The main villain felt like a decent match for Reacher and they did a nice job of setting up the final fight which, I thought, had one of the coolest finishing moves I've seen in a movie. And that is probably my favorite part of the film as a whole, and probably the only thing that stands out in my memory even after just a few hours of viewing. It wasn't great but wasn't horrible either. I'm kinda indifferent towards it. Might be because I caught it in a bad mood or something.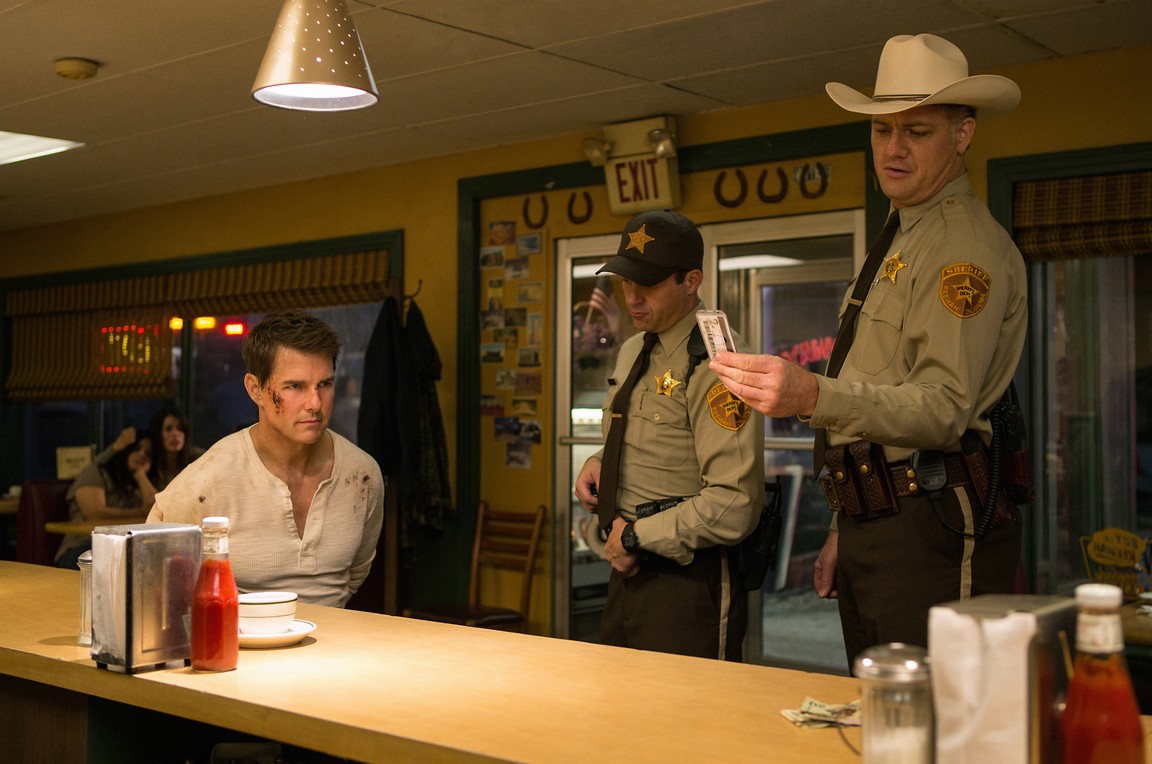 "Jack Reacher: Never Go Back" is the kind of movie that critics most likely will not be fond of, but most people will enjoy. Nothing really groundbreaking, but it's a solid action flick nonetheless. Go watch it if you're a fan of the first one and are just looking for something to eat popcorn to.